Ravenswood High School alumni

This story appeared in the Palo Alto Weekly on Friday, June 16, 1995.

East Palo Alto marks start of a new era
Ravenswood demolition begins; Gateway 101 retail construction to start soon

by Don Kazak, Palo Alto Weekly

The weather was cloudy and drizzling but the mood was sunny Wednesday evening when East Palo Alto city officials tossed a few ceremonial shovels of dirt and gave the cinder-block wall of the old high school some equally ceremonial whacks with a sledgehammer.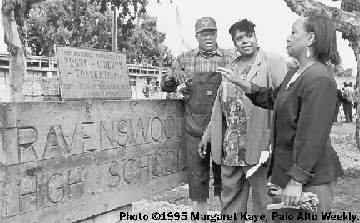 Photo by Margaret Kaye, Palo Alto Weekly

A goodbye to Ravenswood High
East Palo Alto Mayor Rose Jacobs Gibson, right, Vice Mayor Sharifa Wilson, center, and James Carter, a public works supervisor for the city, discuss one of the signs at Ravenswood High School during Wednesday's demolition ceremony.
Ravenswood High School, closed since 1976, will soon be demolished to make way for Gateway 101, a 400,000-square-foot regional shopping center that many consider to be a key to the city's financial future.
Mayor Rose Jacobs Gibson, who graduated from Ravenswood, said the ceremony on Wednesday was "a somewhat bittersweet experience for me."
Gibson said the high school, which was closed because of declining enrollment in the Sequoia Union High School District 19 years ago, was a unique high school with a family atmosphere. The school helped give the students and residents community pride, which is missed, Gibson said.
Gibson said two high school signs marking the campus will be preserved and made part of the Gateway 101 project as a reminder of the school's importance to the community.
"I remember the sounds of music and of bands playing," said Council member Bill Vines, who taught and coached at Ravenswood. He, too, had ambivalent feelings, he said.
Vines said he was hopeful "that something so near and dear to us can be the key to our survival."
"We are on the brink of making something happen for the city of East Palo Alto that many people doubted would happen," said Council member Myrtle Walker, referring to two aborted redevelopment projects in the late 1980s and early 1990s.
The demolition of the high school buildings, which will cost $697,000, is being funded by San Mateo County. County Supervisor Ruben Barrales was on hand for the ceremonies.
Barrales said he was proud the county played a role in the project and, to cheers and applause, added, "I'm looking forward to shopping in East Palo Alto in the near future."
Demolition of the high school buildings will be completed by mid-August, while the Gateway 101 stores and restaurants are scheduled to be open for business by late 1996.
The project has been several years in planning and decisions, a process that has involved city residents and will displace some 200 families when several nearby apartment complexes are also torn down.
The promise of the project, however, is jobs for city residents, new housing for families forced to move and a large shopping center, anchored by a Home Depot store, to give the city both a commercial tax base and retail vitality.
Special thanks to the Palo Alto Weekly for allowing reprint of this story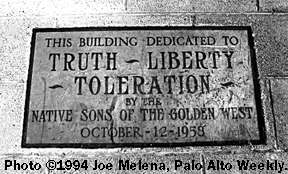 Photo by Joe Melena, Palo Alto Weekly - 10/25/95.